The number of children admitted in church based schools grows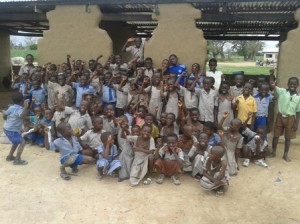 234 children were admitted in the last quarter in the schools established by the churches over the last three years. The new total of children in the schools is 1,374. Hope Alive Initiatives team and short term teams have trained 59 lay teachers that assist the children. The children learn normal school subjects and the Bible.
The latest group of churches in the Upper West region of Ghana, have established 4 schools with 209 children. Pastor Joshua Kaleonaa, who leads the churches in this region reports that they face some challenges, "Because the churches are using Junior High school leavers for the schools, most of them leave to go to secondary school or vocational school. We are not able to keep permanent teachers for the children".
Additionally he reports that, "remuneration for teaches has been a problem, which caused some of the teacher to leave before their time".
Let us join in prayer that the churches will be able to overcome these challenges as they meet they minister to children in their communities.